Bringing You The Next Generation Amino Acids Supplements
InnovAAte is excited to be launching this new online store and bringing to the world their research-backed, free form amino acid supplements.
OptimAAte® and ElectrAAte® are the next generation amino acid supplements designed to replenish what is lost most during the day from general exertion. These losses are amplified during exercise and life in a hot climate.
Daily amino acid supplementation with OptimAAte® can supply the key amino acids that are in greatest demand during the day to support active lifestyles.

Usage of OptimAAte® as directed may assist in the development of muscle mass and the product is useful before, during, or after sustained strenuous exercise.

Daily supplementation of amino acids has been shown to help reduce fatigue.
The ElectrAAte® has been designed to provide the high-demand amino acids, plus the electrolytes, that can be lost through sweat and urine.
Both OptimAAte® and ElectrAAte® do not contain any sugar or caffeine and are vegan friendly.

OptimAAte® can be mixed with water in your drink bottle or cup.

ElectrAAte® can be mixed in the drink bottle or cup and has a light lemon flavouring.
About InnovAAte
InnovAAte products have stemmed from nearly three decades of research undertaken by the InnovAAte co-founders Hugh Dunstan and Tim Roberts. Both accomplished and published scientists in the areas of chronic fatigue, immunology, sweat, protein, amino acids and metabolism, Hugh and Tim are now recognised as world-leading authorities in amino acid metabolism and protein turnover in human and animals.
Who we are | Visit the InnovAAte corporate website
What are Amino Acids
If you are new to amino acids, InnovAAte's research or our products, you will find useful information within our Who Should Use section and also our general FAQ section on this site. If you want to dive deep into the science of amino acids undertaken by the InnovAAte scientists please visit the research section of the InnovAAte corporate website.
Who Should Use | FAQs | InnovAAte Research
Partnerships
If you are a dietitian, nutritionist, elite athlete, personal trainer or supplement store and you would like to dive deeper into understanding the basis behind our research, please visit Partnerships at InnovAAte on our corporate website. You can contact us dirctly from the website.
Ready to shop?
OptimAAte
OptimAAte is the new generation of amino acid supplements specially formulated to replenish a select group of amino acids, which have been shown by scientific research to be lost in copious quantities through sweat and urine. These amino acids have been refered to as the "high-demand" amino acids where they are lost at disproportionately higher rates than the other amino acids. Learn More
ElectrAAte
ElectrAAte contains the same high-demand aamino acids combined with electrolytes and is specifically designed to address the amino acid and electrolyte losses during exercise or living and working in hot climate environments. Learn More
Featured products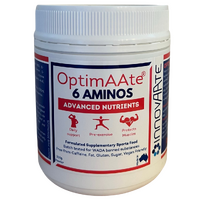 $60.00